Do monsoon rains really matter for economy?
One of the best seasons is around the corner when you would want to grab a cup of ginger tea and some pakodas on a rainy day. Yes, you guessed it right! It is the monsoon. We all must be prepared by now with umbrellas, tissues, rubber slippers, and many more in place already for safeguarding ourselves, while welcoming monsoon with open arms. But, did we really give a thought on how monsoon may impact the market and our investments?. In this blog, we seek to unfold monsoon funda that is very critical for an agrarian economy like ours.
Be it IMD's long-range forecast or private player Skymet's forecast, the monsoon is estimated to be normal in 2018 with rainfall clocking 100 percent of the long-term average. The southwest monsoon marks the beginning in June and continues until September every year and is one of the most crucial sources of water supply in India as is required by the agriculture, industry, and households in the country. Monsoon season witnesses over three-fourths of our country's annual rainfall.
How below normal monsoon impact the economy?
Monsoon rains are critical for farm sector that accounts for nearly 15% of India's GDP and employs over 50% of the country's population. Below normal monsoon delays planting and this translates to reducing yields of crops such as rice, corn, oilseed (also known as Kharif crop). Given, the production reduces, the food inflation tends to move north given the distortion in the demand-supply mechanism. Changing inflation takes the RBI to the drawing board to adjust policy rate with an aim to control inflation while supporting growth.
One of the other impacts of poor monsoon is that it is considered to be a disaster for the millions mired in poverty as the farm level profitability doesn't really show significant movement against the production due to crop losses. Furthermore, groundwater level reduces and the water reservoir level, which typically stores the water during the season for the remainder of the year, moves down.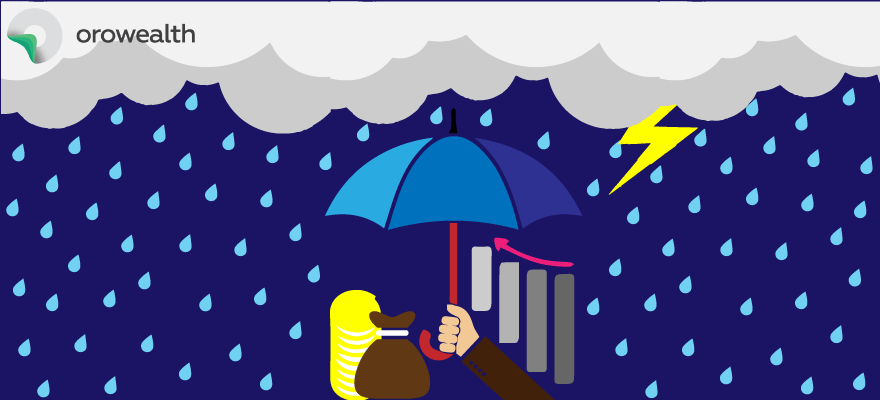 Monsoons impact on economy/markets
Equity market reacts to monsoon forecasts and a deficient forecast typically result in a dip in the market. While a normal or above normal rainfall forecast generally tends to cheer market maker. While this has been the story at the beginning of the season, over the course, the market tends to react as monsoon progresses. The market gets impacted because India Inc. derives a significant portion of their earnings from rural areas and see an impact on their sales and earnings. Companies in sectors such as seeds, agrochemicals, fertilizers, FMCG, tractors, automobiles see a direct impact of reducing rural consumption expenditure. Other sectors affected include banking, NBFCs, and microfinance institutions that bank on the rural segment. Given the fact overall earnings gets impacted and banks, FMCG and automobile sector accounts for more than 50% weight in the Nifty50, the market tends to show signs of volatility.
On the contrary, we believe, a normal monsoon not only support the farm production, profitability but also result in better earnings for corporate India and benefit is seen by way of expansion in credit. To sum up, owing to the factors mentioned above, the monsoon remains a major macroeconomic event that is widely tracked by investors, government, and common man given its material impact on the economy.
Should you wish to know the impact of monsoon on your portfolio and wish to make any re-balancing feel free to use our free portfolio health check tool.
Alternatively, you can write to us at connect@orowealth.com and we shall be glad to assist.
Enjoy the rain, happy rain!